Background to this post: In the first post in this series we showed you how to map stakeholders according to their levels of interest and influence, and then select the most appropriate digital tools to engage with them (see matrices below). To illustrate, we used the example of a local authority wishing to introduce High Street pedestrianisation plans — and in the last post showed you how it might use digital channels to keep them informed, simply and cheaply. In this post we will be looking at how to consult stakeholders with high interest and low influence and show consideration for their views using digital tools.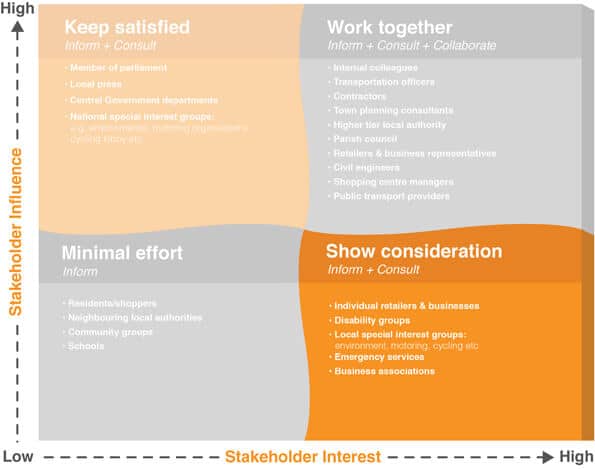 Consulting stakeholders
– and showing consideration for their views
In the case of the local authority's pedestrianisation scheme, many local groups and residents may have a high interest in the project, and not all of them will be influential. It is important therefore for the council to explain what it intends to do, discuss issues and options and allow for challenges and alternative ideas.
Consultative stakeholder engagement using traditional methods has always been labour intensive and expensive — and the more people you have to consult, the more difficult it becomes. But consultation remains an essential component of stakeholder engagement.
Hard-copy consultation documents are costly to produce, public meetings require significant planning and issuing paper questionnaires is expensive and often results in a relatively poor response rate.
But using digital channels to consult stakeholders immediately reduces your costs and admin and, done well, is likely to push up your response rates.
These are some of the ways the local authority can use digital channels to significantly improve the quality and scale of its consultations.
Online surveys. These allow the authority to instantly gauge stakeholder reaction to the principle of pedestrianisation, and to identify issues, objections and support for the plans and options presented. 
Ideation. By using online feedback forms to gather other ideas on how to implement the plans — and to vote on them — the authority can use popular suggestions to refine the scheme for the best benefit of the whole community.
Formal e-Consultations. By inviting responses using online questionnaires and comment forms, the authority can capture official representations on design options and local planning authority policy documents that are used to influence future schemes. 
Discussion forums (and message moderation). The authority can provide an online space to discuss the pedestrianisation plans, put forward ideas and objections and ensure stakeholders feel listened to — while using moderation facilities to keep debate focused and on track.
By using digital channels to consult, you can get responses from day one in your consultation process. And because you can consult with any number of stakeholders without significantly increasing your costs or time, your consultation process benefits from the views of a much wider group of people. Another strength comes from being able to profile and identify consultees with ideas and skills that would be valuable when implementing your plans, allowing you to draw them in to the collaboration process.
In the next post we'll be looking at how the authority can use digital channels to collaborate with stakeholders and work closely in partnership. If you want to learn more about how to do this now, download our free guide Transforming Public Sector Stakeholder Engagement.
Once again, if you have used other digital channels to improve consultation within your stakeholder engagement model, we would like to hear from you. Please share your experiences by commenting below.