Secure supplier management software for collaborating across your supply chain
Kahootz enables your teams to collaborate across organisations with your suppliers anytime, anywhere.
Centralise supplier data and communications
If your organisation uses multiple suppliers, it can be tricky to monitor key documents, contact details and related communications, especially when using seperate online or paper based systems to manage them.
Using features such as discussion forums, document management and databases, Kahootz's supplier collaboration software allows you to manage all supplier communications in one secure, online platform.
Keep your suppliers on the right track
When inviting suppliers into your portal, you want to make sure they're following the correct onboarding process. Otherwise, you have to waste time chasing them to complete it.
Through a combination of task lists, automated email alerts and document approval workflows, Kahootz does the hard work for you by chasing up unfinished tasks, ensuring your suppliers know their responsibilities.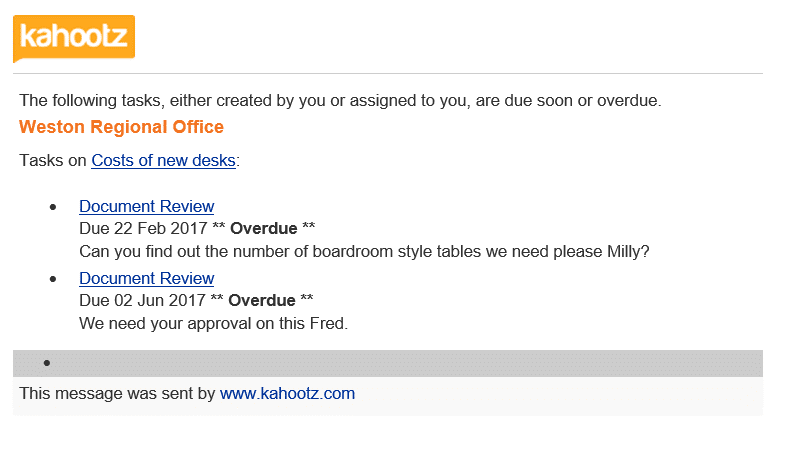 Evaluate supplier performance
The ability to understand the performance of your suppliers, is critical for making informed business decisions.
Kahootz's supplier management software allows you to setup surveys and gather the information you require. Once key stakeholders have responded, you can then dig down and analyse the results using the platform's powerful reporting tool.
Keep yours and your suppliers' data secure
Keeping yours and your suppliers' data secure will no doubt be one of your top priorities.
A Kahootz supplier collaboration portal can give the assurances you need.  Trusted by the UK's Ministry of Defence to collaborate externally with their supply chain and being independently audited on a regular basis, your data is safe with us.