Task management software for keeping everyone on track
It's difficult to work with your partners, suppliers and external partners when you don't know what their priorities are. This can be particularly challenging when they are distributed across multiple geographies.
Because Kahootz's tasks software is cloud-based, everyone can see who is working on what, anytime, anywhere as long as they're connected to the internet.
Stay organised with task lists
Wouldn't it be great, if you could create, assign and manage tasks, whilst monitoring their progress, all in one place?
Kahootz's business task management software gives you an overall view of the tasks inside your online workspace, including any impending or overdue.
Let Kahootz chase up unfinished tasks for you
Reminding people about completing certain tasks can be time-consuming.
Our software allows you to assign tasks to both individuals and groups of people, including a due date and priority level if necessary. These then get added to their own personal task lists so they can manage their own workload.
Automatic "due soon" and "overdue" emails are sent to ensure they are fully aware of what they need to do and by when.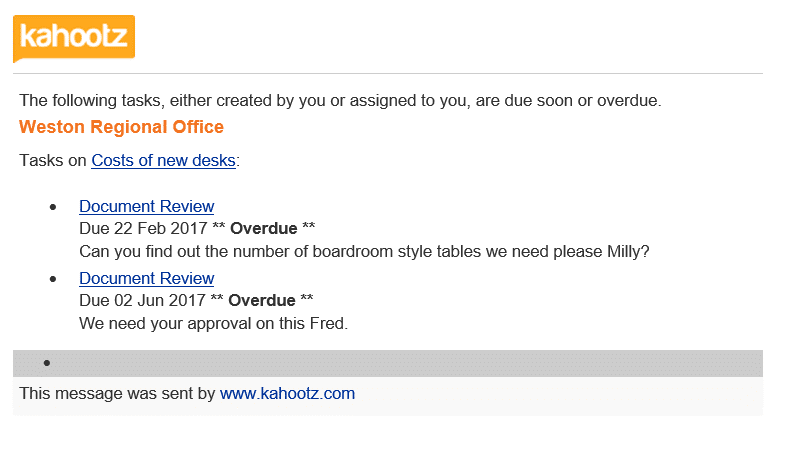 Keep on top of recurring tasks
Not all tasks are one-offs. Important business functions such as payroll, auditing or monthly KPI reports are recurring and if forgotten, could cause big problems for your organisation.
In Kahootz, you don't need to create a separate task for each repetition. Just specify how regularly it occurs and the system will remind you each and every time.
Ensure documents are reviewed by the right people
When creating a document, more often than not, you'll want certain teams or individuals to review it.
Sending it via email can get messy. Long email chains make it difficult for you to gather comments and there's no easy way to remind people who haven't contributed yet.
The users who have been asked to review your document, will receive a notification, and be told of any future changes. They will also be sent notifications and reminder emails to keep them on track.