The development and history of project management is an interesting story.  With over 16.5 million project managers in the world today it is also one of the most in-demand job roles available.
But what are the milestones that have shaped it into the worldwide practice it is today? Our brief history of project management timeline illustrates just some of the key events that have played a role in its growth.
Want to share this infographic? You are welcome to use it on your website as long as you credit us as the source with a link.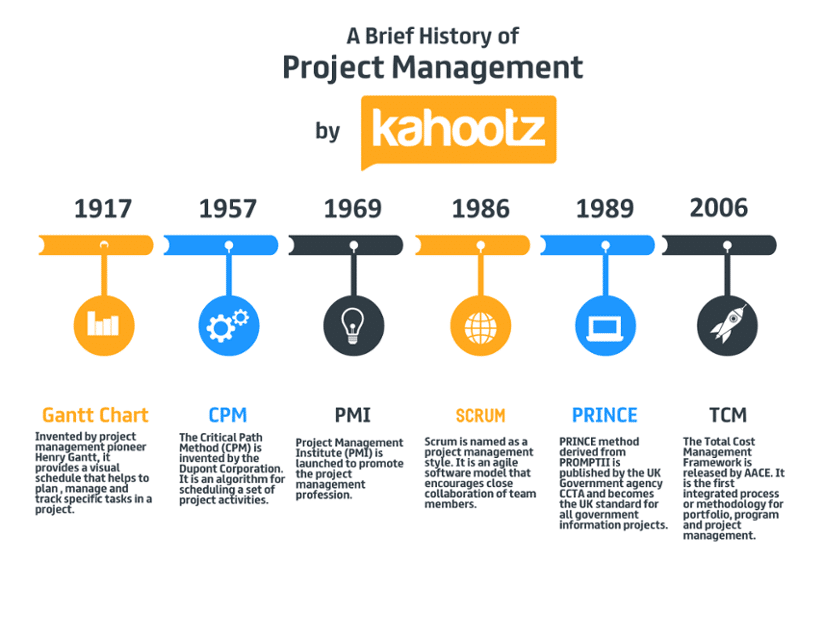 1917
Gantt Chart
Invented by project management pioneer Henry Gantt, it provides a visual schedule that helps to plan, manage and track specific tasks in a project.
1957
CPM
The Critical Path Method (CPM) is invented by the Dupont Corporation. It is an algorithm for scheduling a set of project activities.
1969
PMI
Project Management Institute (PMI) is launched to promote the project management profession.
1986
SCRUM
Scrum is named as a project management style. It is an agile software model that encourages close collaboration of team members.
1989
PRINCE
PRINCE method derived from PROMPTII is published by the UK Government agency CCTA and becomes the UK standard for all government information projects.
2006
TCM
The Total Cost Management Framework is released by AACE. It is the first integrated process or methodology for portfolio, program and project management.
Share this Image On Your Site