"Digital communication in government is developing well in specialist teams but less so in the mainstream." That's the headline finding from the Cabinet Office Digital Communication Capability Review, published in November 2013.
I found it a thought-provoking publication, because that finding – and many of the other barriers to digital communication it identified – resonated with me. They are often the same obstacles that prevent organisations from engaging better with their stakeholders. Solving one will often solve the other.
I've looked at some of the key findings of the report, and considered them in the light of digital communication and improved stakeholder engagement. For me, the key messages are:
Focus first on what you want to achieve, and only then at the methods that can make it possible
Collaborate with internal stakeholders as well as external ones – developing a culture of collaboration delivers major long-term benefits for all stakeholders.
Do you agree? I'd be interested in your thoughts.
What is communication? Strategy, objectives and evaluation
The report found that "too much digital communication and engagement" is delivered in a top-down way (i.e. broadcast only), and only rarely plays a "strategic role in driving efficiency, quality or collaboration with external stakeholders." As a result, objectives tend to get focused on output metrics such as follower numbers, likes, retweets – and not on changing perceptions, attitudes or behaviours.
In other words, digital tools themselves often end up being the focus of the work, rather than the wider objectives based on the needs of stakeholders. As the report says, "getting 1,000 views for a piece that was intended to target the wider population is likely to be time wasted if it took significant resource to develop."
However, by building in stakeholder mapping and planning at the start of the communication process, you shift the focus to your internal and/or external stakeholders – and then choose the most relevant digital channels to reach them.
For example, in this post we talk you through identifying your four key groups of stakeholders:
Low interest/low influence stakeholders — need to be informed, ideally with minimum effort
High interest/low influence stakeholders — need to be consulted, so they are reassured their views are taken into account.
High interest/high influence stakeholders — need to collaborate with you to make the plans a reality
High influence/low interest stakeholders — need to be kept satisfied (engaged) so they remain on-side during the project
Then, moving on to the tools you have available, we show you how to match the most relevant digital channels to each stakeholder group. We created this simple graphic to help you: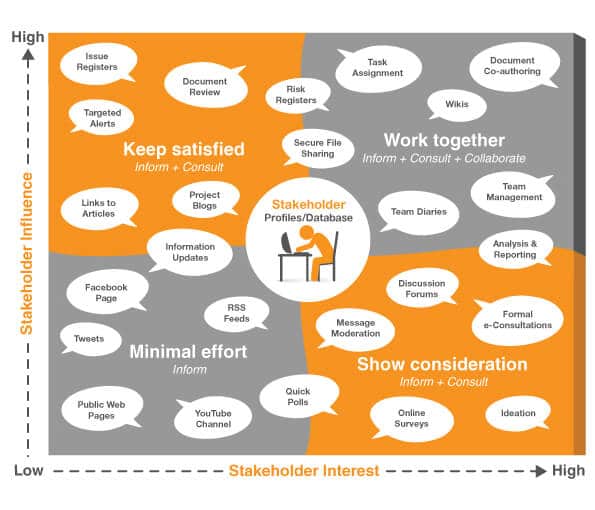 We strongly believe that digital communication across the public sector would be significantly improved if the needs of internal and external stakeholders are considered at the start – and would certainly avoid the "box-ticking approach to digital tools, sometimes with an apparent desire to impress managers rather than achieve worthwhile outcomes" identified by the Cabinet Office report.
Leadership, culture and risks
One of the biggest problems spotted by the Cabinet Office was "an overriding pre-occupation with risks and a pervasive lack of trust in staff" – both significant barriers to creating a Digital by Default strategy and culture.
On the one hand, the public sector tends to have only an ad-hoc network of digital leaders, while on the other hand many staff are blockers – either because they want to keep the status quo, or they are disproportionately concerned by IT security and easy access to digital tools (an issue that secure, government-approved cloud software should now be dispelling).
The report, however, does hint at a solution, arguing there is:
"The need for much closer levels of collaboration. This applies: at senior levels in departments; between communications leaders and GDS (Government Digital Service); between practitioners, for example in sharing good practice in evaluation and working with agencies; and also with external partners, for example in developing alliances."
In other words, organisations need to develop a culture of collaboration with internal as well as external stakeholders to break down barriers to communication and resistance to change.
In our post, How to create a culture that supports digital stakeholder engagement, we identify five key factors to making this happen:
Put stakeholder needs and engagement outcomes first
Create a clear stakeholder engagement strategy
Choose software approved for public sector use
Shortlist and trial stakeholder engagement software
Provide training and mentoring.
Learn more about these factors here and find out how to put them into practice.
Breathing new life into content development and marketing
A top-down approach to communication and an unwillingness to take risks also have negative effects on public sector content marketing. While the report found that "there are some good examples of video, animation, still and digital tools, there is a lack of diversity in types of content and an overriding focus on Twitter."
Likewise, the reviewers "saw some, but not enough, use of digital channels to engage stakeholders in debate, or social media to make internal communications more interactive."
Again, part of the problem is likely to be that employees use tools they are familiar with, rather than those likely to help them achieve their wider objectives.
If you refer once more to the graphic in this post, mapping digital tools to stakeholder interests, you'll see that putting stakeholders at the centre of your communications allows you to choose the most appropriate tools for the job – from a much wider pool of resources.
With strong leadership and this kind of culture shift across the sector – combined with intelligent use of agile cloud software – then we might start to see things change.
You can begin the process in your own organisation by strengthening your focus on your stakeholders. Download our free guide to Transforming Public Sector Stakeholder Engagement – Effective Digital Channels and Strategies for full details on making it happen.